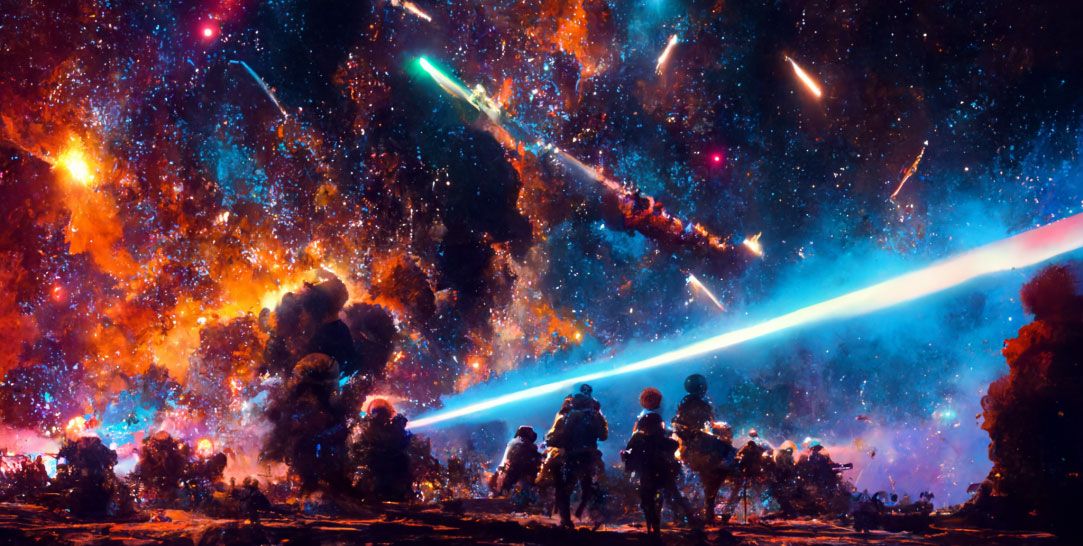 AI generators: Let's give them a try
AI image generation has come a long way in the past few years, and there are plenty of AI tools that help to generate outstanding images. In this article, we decided to test out some of the most popular AI tools. We gave the same prompt to each of the tools and compared the results. Read on to see the tools we used and the results for each of them.
Nightcafe
You might have heard about The Nightcafe Studio as one of the best AI tools, and I would say yes – you are right! Nightcafe is among the best and can create any image in your favorite art style, pattern, or texture. Using Nightcafe is both easy and free. You will be given 5 free credits at the beginning, and each creation costs you 0.5 credits to create amazing art. To gain more credits, you can sign up and complete your profile.
Nightcafe gives you two options to create artwork. The first is uploading a photo and choosing a "style" image to get the AI-generated result. The second option is a text-to-image art generator that gives you the opportunity to type in the idea for your digital art (called a "prompt") and then get the AI-generated results from Nightcafe.
How it works
By following simple, easy-to-follow steps, anyone can begin their journey of artwork creation using Nightcafe. The artwork takes a couple of minutes to be created, and it gives you the option of choosing the style for the prompt you entered. You can download, print, share, or even sell the result as a non-fungible token. This is the result when I asked Nightcafe to generate a picture of "earth on fire from space with aliens looking down."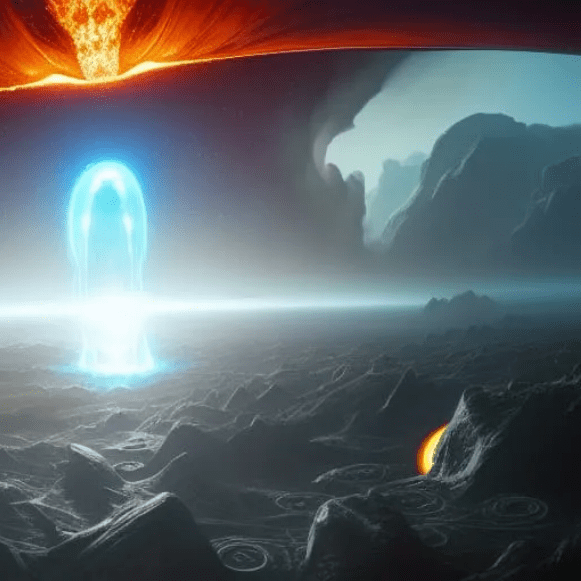 Sounds interesting, right? Click here to check out Nightcafe website and create your first work of art!
Pros:
Powerful free AI tool that has special creation tools such as blending multiple images to generate an innovative result.
Nightcafe gives users an opportunity to replicate and polish their creations by re-using any previously used style or input.
As long as users use text-to-art features, images, or files that are not copyrighted, they retain all licensing rights to the digital art they create on Nightcafe.
Users can delete or update their created works.
Users don't need to create an account to access the full features and it can be used without worrying about data risks.
There is no watermark and Nightcafe has different styles to generate artwork.
Cons:
Sometimes the result images are a bit off from the intended description or prompt.
Wombo Dream
Wombo Dream, powered by Wombo.ai, is a tool that uses AI to transform your idea and art style into a beautiful painting in a blink of an eye. This tool generates stunning images and artwork based on your input. You do not need a paintbrush, pencil, or any other art supplies to make beautiful artwork – all you need is an idea!
It is free to use Wombo Dream, and it is also available on Android and iOS. Just imagine creating outstanding images with an AI tool on your phone! Such a great tool can be used to stimulate your imagination or to create unique art.
How it works
It is one of the best and most user-friendly AI tools available, and in just a few moments your artwork is ready to download. You don't even need an account to explore all its features. There are no long queues or download limits to restrict your imagination. Fortunately, Wombo Dream is free unless you want to buy a print of your creations. You need to enter a prompt and click "create". As simple as this!
This is the image I created entering the prompt "earth on fire from space with aliens looking down":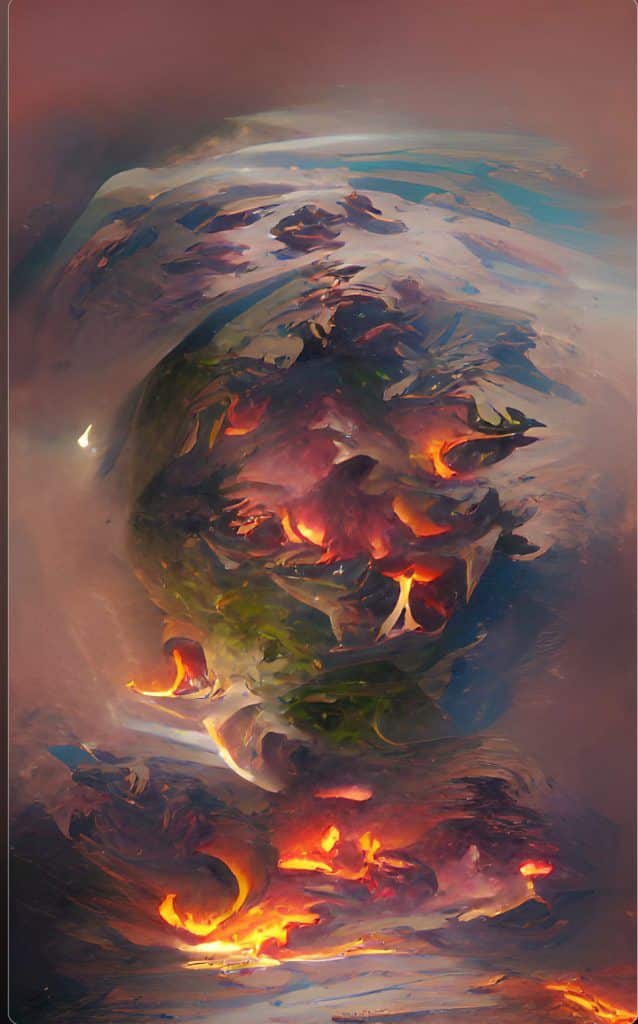 If you just want to explore the capabilities of Wombo Dream or you are simply out of creative ideas for your art project, here is the link to the Wombo Dream website. Help yourself!
 Pros
A great free AI tool with plenty of styles to choose.
Available on Android and iOS.
Ease of use and quick to set up.
Major bug fixes with every update.
  Cons
It doesn't generate sharp or detailed images.
Images look nice on small screens but less impressive on big screens.
The photo selection interface only gives you access to the phone's library one time.
Photosonic
PhotoSonic is one of the most powerful AI tools that can transform a string of text into artwork with just the click of a button. Like some of the other AI tools, PhotoSonic uses a deep learning algorithm to generate images based on a text prompt. PhotoSonic can be used to create all kinds of illustrations, photo-realistic images, and artistic images.
PhotoSonic offers 10 credits for generating images and you can use it to render up to 20 images. If you want to create more artwork, then you can buy a basic plan for $10 which gives you 100 credits, or you can get the unlimited plan with unlimited credits for $25.
How it works
In a couple of easy steps that only require you to enter a prompt and choose a style, you can create artwork in a blink of an eye. You can choose the resulting image's ratio to be square, horizontal, or vertical. PhotoSonic can detect and correct faces in the images, so you don't have to worry about imperfections. There is an "enhance" option in PhotoSonic that can automatically improve the quality of the output image.
This is the result of the original prompt of "earth on fire from space with aliens looking down" generated via PhotoSonic:
If you are interested in trying PhotoSonic with free credits, here is the link to the PhotoSonic Website. You are only one step away from your artwork creation!
Pros
Auto-face restoration
Quick and easy-to-use AI tool
Lots of different styles
 Cons
PhotoSonic sometimes generates blurry or distorted images
Some of the output images are not related to the prompt
LightTricks
Lightricks is a new AI-generated text-to-image tool that allows you to type out what you want an image to look like using a prompt, then have the AI do the rest of the job for you. All you need is a bit of imagination expressed in the form of a short prompt. Within seconds, you will receive an original artwork with high resolution using your mobile editing tool. Lightricks is an amazing tool for professionals as well as general users who are just eager to try out AI tools.
Lightricks is not the first company to deliver text-to-image AI services, but it is the first to do so through a mobile application that is open to use for everyone. Users are also allowed to further manipulate the AI-generated outputs and incorporate them into different designs. Another interesting fact about Lightricks is that it is free to use and users can download as many of their AI image creations as they wish. If you want to sign up for pro membership, you can download up to 100 high-quality outputs monthly, and the subscription fee ranges from $4.99 per month to $9.99 per year.
How it works
Using Lightricks is as easy as using any other apps on your phone. Just open the app, choose "create with AI", and enter your prompt. The result is incredible. Every time you try a prompt, it gives you four options that you can either save or share. The best part is that you can edit the final result as you wish with different options available on the app. The sky's the limit with Lightricks!
One of the image results for "earth on fire from space with aliens looking down" with Lightricks via Facetune app on my iOS phone is like this: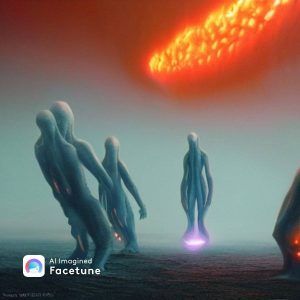 On the Lightricks website, there are three apps suggested for your mobile to download from App Store or Google Play. Click here to get the apps and enter your prompt. You will be amazed by the results!
Pros
The user owns every image that is created via Lightricks.
AI text-to-image tool you can have on your phone.
Editable final results.
Cons
Sometimes it takes several tries to get the image manually sized.
New updates have bugs such as removing some of the mostly used features.
Artbreeder
Artbreeder is one of the most well-known AI tools that use machine learning for generating various images based on a set of starting images. Different characters, buildings, anime portraits, and much more are possible using Artbreeder. This platform offers many great features to help users create the best AI-generated images. For example, the "remix" option allows users to take a style from one image and apply it to another one. Or the "AI Image Enlarger" feature in Artbreeder enables users to enlarge images keeping the same quality.
Artbreeder's free version has a limitation of uploading three images and there is no chance of replacing the uploaded images with new ones. To use the paid plans, Artbreeder offers a "Starter Breeder" plan for $8.99 and an "Advanced Breeder" plan for $18.99 per month. Users can buy the "Champion Breeder" plan to enjoy the full features for $38.99 monthly.
How it works
To use Artbreeder, you have to sign up, but this is a fast and free process. If you want to use paid features, then you need to subscribe. All images are public domain (CC0) and can be used for commercial purposes, although there is also a private mode that ensures users that their images are not going to be used by others.
Having entered the prompt "earth on fire from space with aliens looking down", I received this cool image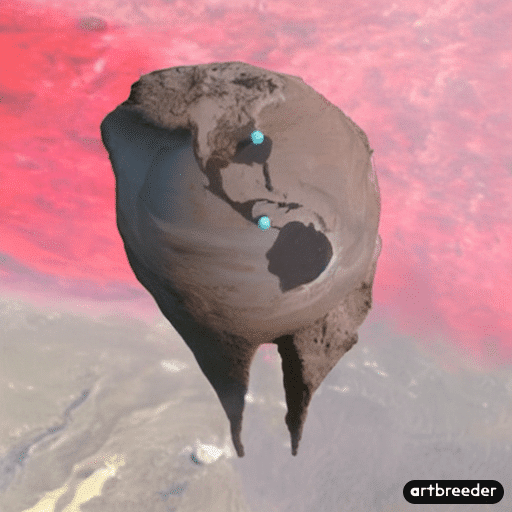 There are different options on the Artbreeder website such as "Artbreeder Collager" that are worth trying. You can explore all of them by clicking here.
Pros
Deep Dream
Deep Dream is another AI generator that is developed by Google. The way it works is a bit different from the others in the list, as it employs a network called "convolutional neural network" to produce images based on what it detects in an input image. This causes a dream-like appearance in the output image Dream Deep generates.
The process Deep Dream uses to generate images is similar to the phenomenon of when you see a cloud in the sky and try to interpret random shapes out of it.
Users can sign up for a free account which enables them to create lots of wonderful artworks using Deep Dream. There are also three paid plans for more avid users:
Advanced plan: $19 per month
Professional plan: $39 per month
Ultra plan: $99 per month
How it works
For using Deep Dream, you need to upload an image and then the AI generator will deliver a transformed version of the image based on your selected settings. You can select different styles such as Renoir, graffiti, carina, etc. Then in a few seconds, the output is ready in the best way possible!
Well, I was so interested to try out this tool by myself. So, I used a random base image and one of the available styles in Deep Dream. The result is just incredible! This is the random base image I used: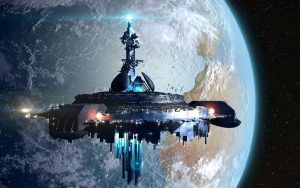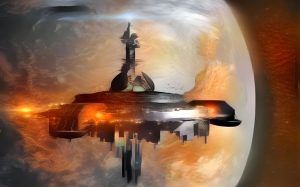 And this is the result:
You can create amazing images like this with Dream Deep. You are one click away from this great AI generator – don't hesitate and click here to try out Deep Dream!
Pros
Various available styles to choose from
Generating realistic images
Ease of use
Cons
Unable to generate images based on a text prompt.
Canva
Canva's AI image generator is a great way to create professional-looking images. Many of us have used Canva before, but its new AI image generator takes things to a whole other level. Using Canva, you can create customized images based on your needs. Canva is an incredible tool that helps you create amazing visuals.
You can use the free account on Canva, but if you want to experience the full features, you need to upgrade to Canva Pro. This will allow you to combine the power of AI-generated images with other available features of Canva to get the ultimate results. The good news is that you can benefit from Canva Pro and try it for a 30-day trial.
How it works
In the apps section in Canva, there is an icon named "text-to-image" that is where you enter a text prompt. Then you can choose a style from the options it provides or go with the option "surprise me". Once you select one of the AI-generated images that Canva provided, it will be added to your uploads and you can utilize it however you want.
Here is the image I got for the "Earth on fire from space with aliens looking down" text prompt. I chose the "surprise me" option in styles and I selected this image among the two results Canva provided.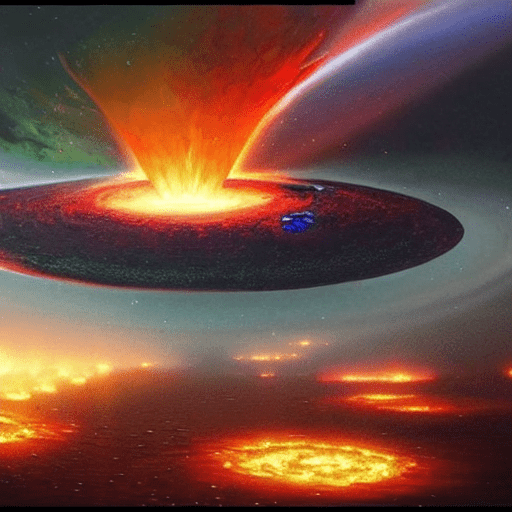 If you are interested and want to try Canva AI with your text prompt, click here!
Pros
User-friendly and easy-to-follow steps
Various styles available
Editable result AI-generated images
Cons
Alignment concerns
Export settings are limited
Intellectual property belongs to Canva
Pinegraph
Pinegraph is one of the most recent AI tools that allow users to create amazing AI-generated images from an initial text prompt. Everyone can use Pinegraph to visualize their imagination, and the end result can vary from an artwork or painting to a t-shirt, cup, NFT, and more. As mentioned on its website, Pinegraph aims to "enable the creator inside of you". It helps to give life to users' imaginations and that is great!
Pinegraph offers tools for drawing and creating images using AI, and users can generate an image, draw on it, or ask the computer to create another one. So, if you want to use Pinegraph, you should also know that it offers different membership plans:
Basic: Free- Provides up to 25 low-priority Fast Amplifications per day.
Premium (Coming soon): $4.99- Provides 500 high-priority Fast Amplifications per day/ up to 50 Standard Amplifications per month/ and up to 10GB Cloud Storage
Ultimate (Coming soon): $8.99- Provides 1000 high-priority Fast Amplifications per day/ up to 100 Standard Amplifications per month/ and up to 20GB Cloud Storage
Collective: Invite only- Provides 2000 high-priority Fast Amplifications per day/ up to 200 Standard Amplifications per month/ and up to 40GB Cloud Storage/ and access to Beta features, etc.
How it works
Generating AI images via Pinegraph is easy. After entering the prompt in the box provided, you need to click on the "amplify" button. Then the result will be shown in small size on the right side of the screen. Now you have the option of drawing on the canvas or publishing or sharing the result. The drawing option gives you the privilege of editing the result as you wish, but if you choose the second option, you can download or share the AI-generated image.
This is what I get when entering the prompt "earth on fire from space with aliens looking down". I didn't draw or edit the final result and it is the raw image.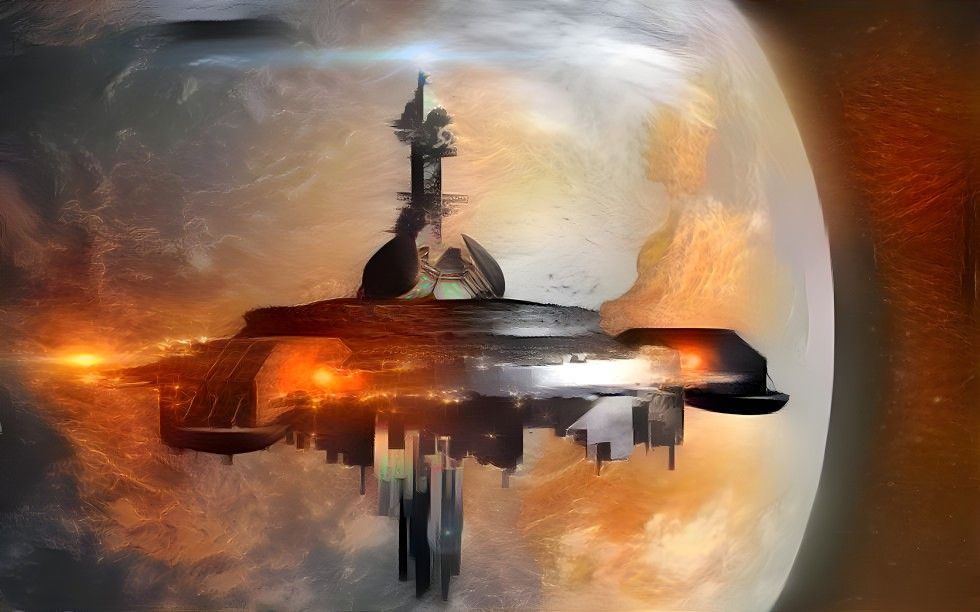 I suggest adding details to your prompt to get a more vivid picture. The good part is that every time you try the same prompt, you will get a different result. You can try your prompt on Pinegraph website.
 Pros
Pinegraph creates efficient AI-generated content
The results are editable and you can work on them.
It is easy and straightforward to use Pinegraph.
Cons
Pinegraph doesn't assert copyright over the content generated by the services.
Not the best user-friendly AI tool.
The output images are not of high resolution in the free version.
Neural.love
Neural. love is an AI tool accessible to creators and people in business. This tool originally began as an R&D project to discover the limits of AI enhancement of images, videos, and audio. Neural.love tries to make machine-learning magic available for everyone. According to its website, Neural. love is using a fully automatic cloud-based solution that makes media processing available for anyone.
Neural.love AI services are offered at low prices affordable for all. The "starter" plan is free and it gives you 5 credits to use. That means you can use the credit to generate either 5 images, around 15 seconds of audio, or two portraits. You can also have access to unlimited art generations but there is no video enhancement in the starter plan.
For the "subscription" plan, you need to pay $30. It gives you 300 credits per month, and you can transfer the unused credits to the next period with the ability to top-up or cancel anytime. Additionally, there is the "pay as you go" plan, which costs $57 and gives you 300 credits at once. With this plan, you pay once without needing a subscription.
How it works
Like the rest of the AI tools in the list, using Neural. Love is rather easy. When you check the website, choose the option "AI Art Generator". Then, you need to enter a text prompt and wait for a couple of seconds. The result comes in the form of four different pictures, but I think in most cases you need to enhance the one you select.
I tried the prompt "Earth on fire from space with aliens looking down" and I received four images that were satisfactory but I tried to enhance the image to see what happens. This is the result of my chosen image: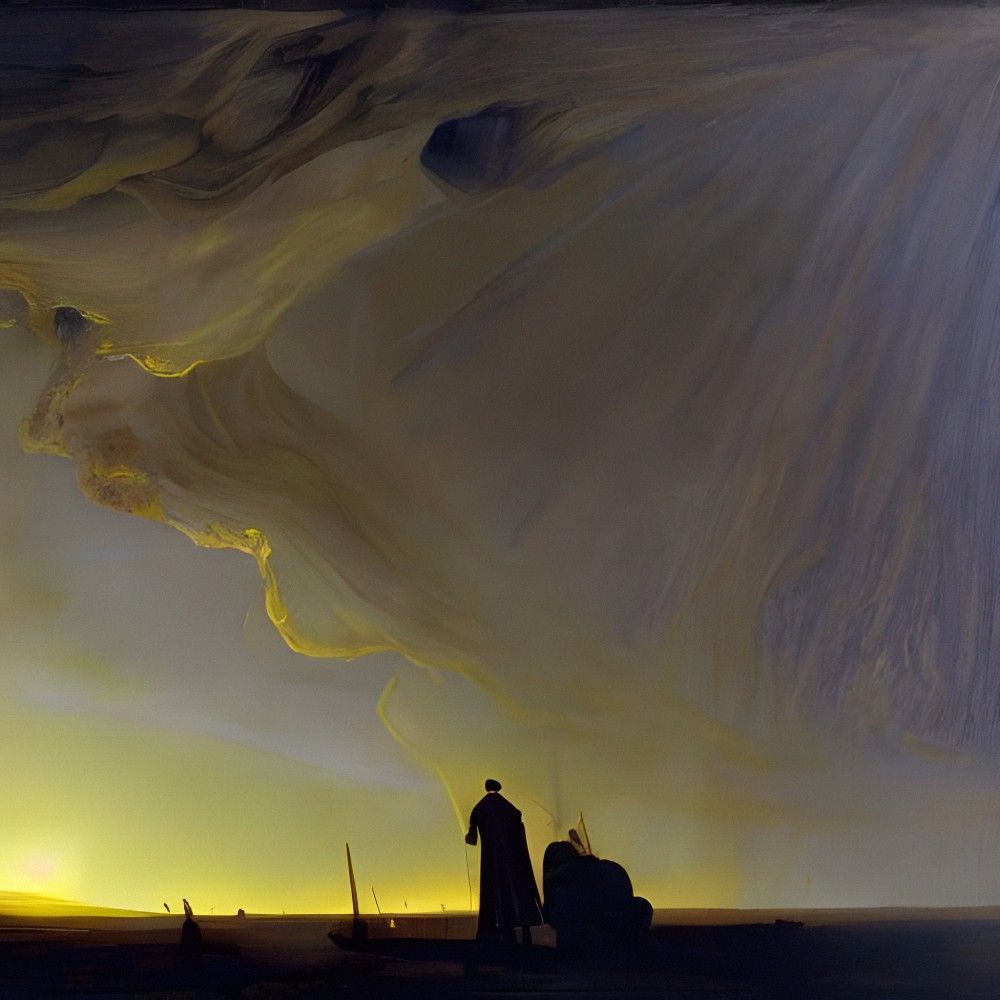 The starter plan of Neural.love is a good starting point. I suggest entering a prompt and checking the results. If the output images are not satisfactory, try enhancing the image and then you will be able to download or share the high-quality image. Check this out here!
 Pros
Various styles to choose from for generating an AI image.
Neural.love allows for enhancing an image, audio, or video.
Pretty straightforward and user-friendly AI tool.
Cons
Sometimes the output image is blurry and you have to enhance it to get a better result.
Simplified
Simplified is an AI generator that allows users to create artwork as well as realistic visuals from a short description given to the tool as a prompt. There are lots of styles in Simplified that you can use to make your output more detailed. The AI-driven design that Simplified delivers is similar to Canva AI in many cases, such as the options and the user interface. Moreover, there are video and animation tools, media scheduling, as well as team collaboration available in Simplified which makes it an all-in-one AI tool to use. Simplified gives you all you need to do in one place.
Simplified has a free plan that offers 10 credits per month which can be used for generating images. If you are an avid user, then you probably need to buy the paid plans. The plans that Simplified offers are as follows:
Free forever: Free- This plan is best for personal use, quick designs, and videos.
Small team: $18 per month- This is best for small teams starting with digital marketing.
Business: $30 per month- Best for growing teams scaling creatives, social, and blogs.
Growth: $75 per month- This is great for high-growth businesses.
If you buy a paid plan annually instead of monthly, you will get a 40% discount!
How it works
Generating an image using Simplified is simple, as you just need a short description of what you want. Simplified uses two algorithms for generating images, so you can choose between DALL.E2 and Stable Diffusion. The first one is better as it provides more realistic results. The good part about Simplified is that it allows you to edit the output using the tools it provides. After generating an image, you can edit and adjust the image as you wish. You can change the color, brightness, and contrast, or even remove the background of a selected image.
The prompt I used for the other AI generators, is "earth on fire from space with aliens looking down". This is an amazing result.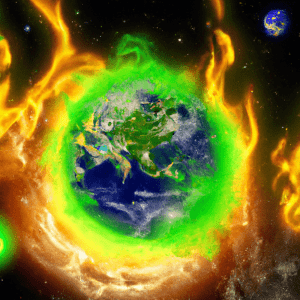 Now, if you are interested in checking it out yourself, here is the link to the Simplified website! Follow a couple of easy steps and be impressed by the power of the Simplified AI generator!
Pros
The generated images are editable via different tools provided in Simplified.
Various styles available to use for generating an image.
All-in-one AI generator.
Cons
It could have a better interface.
Not the best AI tool as the output images can be more in detail or with higher resolution.
Dall-E2
DALL-E2 is another great AI generator that is based on the DALL-E mini algorithm from OpenAI. DALL-E2 allows users to create realistic images from text prompts and it has different features which make it one of the best AI generators such as editing the images, adding or removing elements, or expanding the output image.
DALL-E 2 has a credit system that gives users an initial 50 credits and then 15 for each month. Users can buy more credits at $15 for a chunk of 115. Adding one out-painting box costs 1 DALL-E 2 credit, and the cost of out-painting an image depends on how big you want to make it and how many 1024×1024-pixel squares you need to add.
There are three different pricing options for using DALL-E2:
Start for free: $18- You can start experimenting with free credit within the first 3 months.
Pay as you go: You will only pay for the resources you use as you move forward.
Choose your model: You can choose the model that best suits your needs and pay for that.
How it works
DALL-E is connected to a large source of big data categorized images such as Instagram and many other programs where people publish images and can find different patterns from them. When we write "advertisement of a cat in the appearance of Napoleon with a cheese in his hand" in the text, this artificial intelligence first connects each of the words to the images in its database and tries to combine these images through a series of processes.
The prompt I used for creating an image using DALL-E2 was "earth on fire from space with aliens looking down" and here is the resulting image: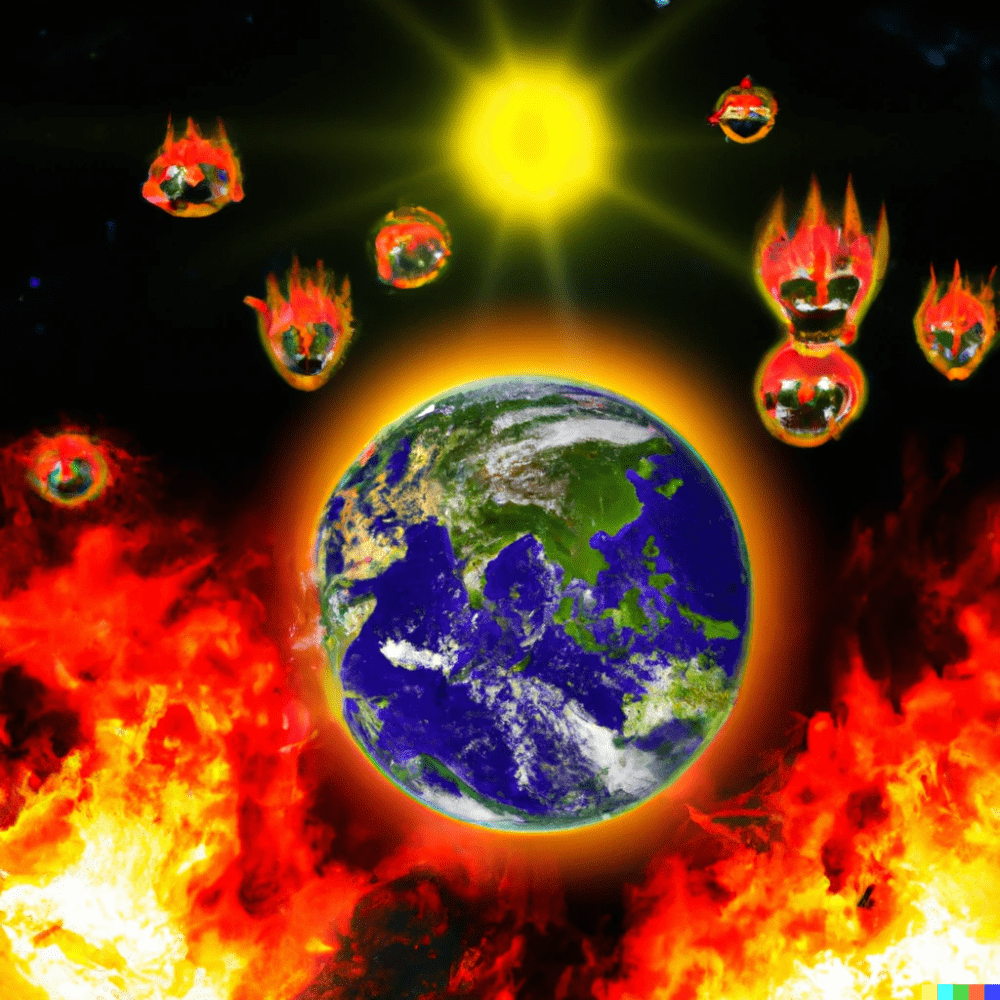 It looks like a bold, high-quality image generated with a great AI tool. Here is the link to the DALL-E2 website where you can try your own prompt to see the result!
Pros
You will be able to retouch or edit the received images.
You can upload any image and then ask the system to provide you with different versions and states inspired by the original version.
You have the in-painting feature that enables you to edit only a part or parts of an image, remove or add elements, or give effect components, textures, shadows, or light reflections.
 Cons
This tool can't produce images of well-known people such as politicians or celebrities.
You need to pay a fee to be able to use this service.
Final thoughts
In this article, I introduced different AI tools and discussed their pros and cons. Some of them were great in terms of the high-resolution and detailed output they provided, while others were user-friendly and straightforward to use. While working with all of them to generate an image using the same prompt, I think Canva AI gave me more options with regard to editing the image and the final product was of high quality. The second choice AI generator was Nightcafe, as it has the option of blending the images and creating another image.  The onboarding was also frictionless because users don't need to create an account to access the full set of features. (It is often frustrating to enter your bank account information and wait for confirmation so that you can use the free features of an AI generator.)
Regarding the resulting images, I think the Wombo Dream image was the best quality as it was highly detailed and matched the prompt accordingly.  There are other AI generators out there that we didn't discuss in this article such as Fotor, Hotpot.ai, StarryAI, Deep AI, etc. Check them out when you get the chance.
With these tools, you can create amazing artwork that will impress you and your audience. So, don't hesitate. Start creating some amazing artwork now!